Insights
Tenggara Strategics provides valuable perspectives on what matters most to our clients. Through our collaborations with clients, we grow our sectoral knowledge and skills as well as create positive changes and improvements by transforming our insights into concrete actions.
April 1, 2022
Beyond lending: Building MSMEs' resilience during COVID-19 pandemic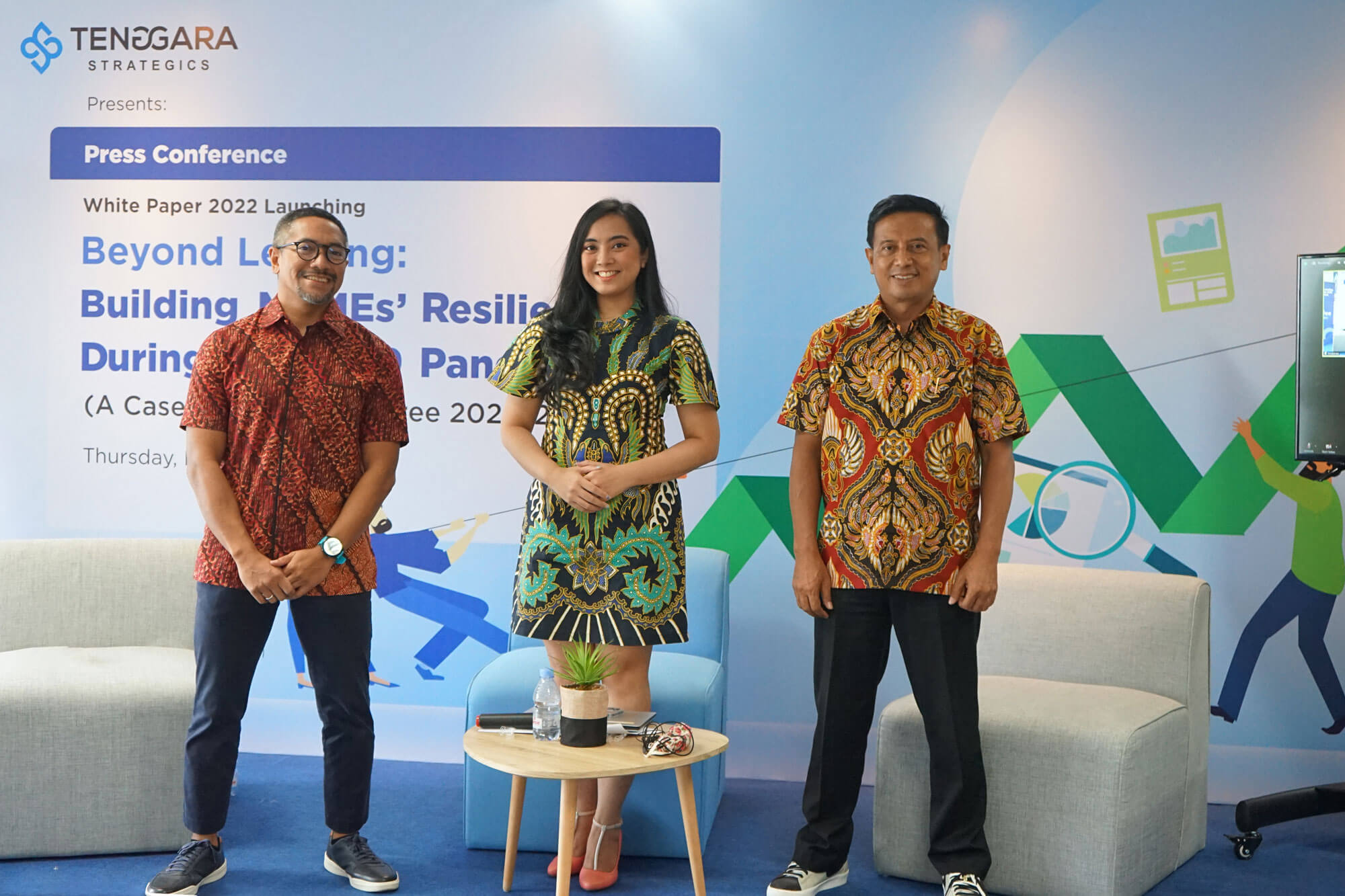 Investree co-founder and CEO Adrian A. Gunadi (<i>left to right</i>), Tenggara Strategics economic research lead Stella Kusumawardhani and executive director Riyadi Suparno are on stage during the launching of Tenggara white paper "Beyond lending: Building MSMEs' resilience during COVID-19 pandemic" in Jakarta.
In the early days of the pandemic, countries worldwide implemented drastic mobility restrictions to curb the spread of COVID-19, which in turn, affected supply chains both on the global and domestic levels, including in Indonesia. When the supply chain was interrupted, transactions or payments for orders were delayed, disrupting micro, small and medium enterprises' (MSME) cash flow and, subsequently, their entire business operation. MSMEs needed access to working capital to keep their businesses running smoothly and to pay for all operating costs while waiting to receive the payments for their products.
In a crisis in which MSMEs' cash flow is interrupted, working capital becomes imperative for their survival and to save their workers' jobs. However, MSMEs had limited access to financing from conventional institutions due to their lack of assets for collateral. Furthermore, applying for loans can be time-consuming due to the long processing time. In the meantime, the clock is ticking for the businesses' survival. For much-needed support, MSMEs need lenders to expedite loan distribution such as by relaxing their requirements and simplifying the loan application process. Considering that one of the MSMEs' assets that are difficult to collect in a time of crisis is account receivables, invoice financing can be a solution to provide working capital. In addition, digital innovations could be used to make the application process easier and safer during the pandemic.
Investree, a prominent financial technology (fintech) lending platform in Indonesia, is one of the economic agents that provide such financial support for MSMEs during the pandemic. By adopting sophisticated technology and innovation for MSMEs' credit scoring assessment to manage risk, Investree is able to provide services such as invoice financing, buyer financing, working capital term loans and retail seller financing, opening access to working capital loans for MSMEs across Indonesia during the pandemic. This research studies the impacts of fintech lending platforms, with Investree as the study case, to provide financing access for MSMEs so they can stay resilient during the pandemic. This includes economic and non-economic impacts, such as social capital, psychological capital and quality of life.
This study combines quantitative research in the form of surveys and qualitative research in the form of in-depth interviews for data collection. The survey interviewed 275 Investree borrowers across Indonesia who received loans during the pandemic. The sample was selected using the quota-sampling method to represent borrowers across loan segments and the process of selecting the samples for each loan segment was carried out on a probability basis using random sampling. We then conducted interviews with six borrowers, representing all three business size categories.
The study found that 96 percent of micro borrowers were able to maintain or increase their revenue after acquiring financing access through Investree during the pandemic. In addition, 39 percent of small borrowers and 61 percent of medium borrowers reported that they were able to hire new workers during the pandemic after acquiring financing access through Investree, which is equal to creating over 2,500 jobs. Investree has helped boost financial inclusion among MSMEs, with 39 percent of borrowers reporting that Investree provided the first loan they had ever received. Finally, acquiring financing through Investree allows borrowers to switch industry (14%) and offer new products (24%) to adapt to and survive the COVID-19 pandemic.
Beyond lending, Investree also helped borrowers improve their social capital, psychological capital, and quality of life. After joining Gramindo, Investree's partner that focuses on empowering female micro business owners, 78% of micro borrowers reported gaining emotional and social support and 75% said the community supported them during tough times. Investree borrowers also reported improved psychological capital after receiving a loan from Investree during the pandemic, mostly in self-efficacy (14%), which is their perceived ability to overcome difficulties, followed by their perceived hope (12%), resilience (10%) and optimism (6%). With these economic, social and psychological encouragements, Investree's access to lending has led to improvements in the borrowers' quality of life. This study finds that borrowers' quality of life increased by 14% after acquiring financing access through Investree to 7.3 points from previously 6.4 points on a zero to 10 Likert scale. This increase in quality of life is mostly supported by a boost in economic well-being (16%), followed by social well-being (14%), and psychological well-being (9%).
Report - EN
Report - ID
Report PPT